MEET OUR FOUNDERS








Jaclyn Tan
Jaclyn Tan is a graduate from La Trobe University (Melbourne), Australia. Prior to OzWorks, she worked at the National University Hospital and KK Women's and Children's Hospital where she was involved in setting up services and giving educational talks in the media. Jaclyn has vast experience in the area of Sensory Integrative Therapy and working with children with Autism Spectrum Disorder, Attention Deficit Hyperactivity Disorder and physical disabilities, among others. She also specialises in establishing foundational and academic skills to prepare children for school.    

Jaclyn is a certified SIPT (Sensory Integration and Praxis Test) therapist and voraciously keeps abreast with current trends and development in paediatric rehabilitation. Her many years of working experience and astute mind puts her in good stead to analyse and detect even nuanced conditions and to make sound judgment calls for all her clients. She is hence a highly popular go-to paediatric therapist in Singapore.  

Jaclyn enjoys singing and is a Lego and word game enthusiast.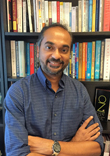 Sudev Sreedharan
Sudev Sreedharan is a graduate of the University of Sydney, Australia. He is a well- respected clinician and has broad working experience in the field of psychosocial, cognitive as well as physical rehabilitation. He worked with the Institute of Mental Health and Changi General Hospital in Singapore prior to helping establish OzWorks Therapy. He has a special interest in working with students with school integration, organisation and life-skills requirements. He is also highly sought after in training organizational skills to adults with attention deficit disorder.

Sudev has the ability to connect very well with all groups of clients. Medical specialists have been extremely pleased with his clinical outcomes. He is a popular feature at workshops, conferences and educational institutions. He has also been sent by the United Nations to implement therapy programmes in Cambodia. 
 
Sudev and his beautiful wife Shan have 2 wonderful kids, Sanjay and Sasha. In between spending time with his family, Sudev spends time on DIY projects and is a novice gym rat. He is also a die-hard Manchester United fan and enjoys travelling.








Vicki Pang
Vicki Pang graduated from the University of South Australia, Adelaide in 1991. She has worked at the National University Hospital and Changi General Hospital in Singapore as well as in Toronto, Canada. She has extensive experience working with renowned surgeons in the area of upper limb trauma and musculoskeletal rehabilitation. Her work also involves performing functional assessments and acting as an expert witness for post-injury victims. In between her clinical load, she upgrades herself by attending various musculoskeletal-related courses and has also been involved in lecturing and presenting talks at various public forums.

Vicki is a much sought-after hand therapist and delivers excellent clinical outcomes for her clients. She has good bedside manners and is able to motivate and put her clients at ease.

Vicki and her spouse Leslie enjoy gastronomy in all forms, travelling and goofing around with son, Lucas and daughter, Leigh-Anne. They are also actively engaged in church and community work in Singapore and the region.
MEET OUR TEAM
Meet our growing team of vibrant therapists chosen for their experience and disposition








Kumutha (Kumi) Rasappan 
Kumi graduated from the University of Manchester, UK in year 2000 with an Honours Degree in Physiotherapy. Thereafter she spent 7 years working in the UK both in the private sector and NHS hospitals. As a Principal Physiotherapist at the Wirral NHS Trust, she headed the department of Orthopaedics and Trauma. She acquired extensive experience in treating lower limb trauma and in musculoskeletal rehabilitation while working in the UK.  

On returning to Singapore in 2007, Kumi joined Mount Elizabeth Hospital as a physiotherapist in post-operative rehabilitation programmes for spinal operations, ACL injuries, total hip and knee replacements as well numerous other musculoskeletal conditions.  

Kumi specialises in manual and exercise therapy and her area of interest lies in the treatment of musculoskeletal- related conditions; namely those involving the lower limbs, back and neck. She also specialises in Cranial-Sacral Therapy and Emmett Therapy. Kumi enjoys her work tremendously and gains great satisfaction from seeing patients recover and be symptom-free once again.  

She is married to Guna and they have 2 beautiful daughters. When she is not with fussing with the kids, Kumi enjoys reading and painting.








Sharon Seah
Sharon Seah holds a Masters degree in Advanced Occupational Therapy from New York University. She is also a Certified Hand Therapist, having successfully passed a comprehensive set of tests of advanced clinical skills and theory in upper quadrant rehabilitation.

After working for 10 years in an acute care hospital in Singapore where she specialised in hand and upper limb rehabilitation, Sharon went on to practice at a top Level I trauma hospital in Manhattan, New York. There, she further honed her skills while working alongside hand and orthopaedic surgeons on complex trauma cases. She is creative, up-to-date and familiar with a wide range of treatment techniques to assist and expedite clients' return to sports, work and other desired pursuits.

Sharon also has an ongoing special interest in carrying out Functional Capacity Evaluations and return-to-work programmes. She is dedicated and astute in assessing and recommending options for post-injured individuals

Sharon is outgoing, sociable, and engages well with clients of all age groups and backgrounds. She has a passion for sailing, participating regularly in regattas and races in Singapore and around the region. She has recently spent two years sailing around the world together with her husband and three cats on a sailing catamaran, experiencing diverse cultures and countries.








Louise O' Leary
Louise is from Ireland and a graduate of Trinity College Dublin. She has experience treating children with a wide range of conditions ranging from Autism Spectrum Disorder, Sensory Processing Disorder, Attention Deficit Disorders, Dyspraxia and learning difficulties. In addition, she is also skilled in the management of clients with neurological and orthopaedic conditions. She is a registered professional with the Allied Health Professional Council in Singapore as well as a member of The Association of Occupational Therapists Ireland.

Outside her work, Louise strongly believes in giving back to the community. She has served as a volunteer in many organisations in Ireland. This includes 'CASA' a social group for children with a variety of special needs, and also helping establish and run a playgroup for children with Autism Spectrum Disorder in a local community.

Louise is very passionate about working with children and her bubbly personality and love for children enables her to connect with them easily. She works well with both younger and older children. Louise enjoys kickboxing, engaging in outdoor activities such as cycling in East Coast Park and café-hopping around Singapore looking for the best dessert. Travel is her huge passion and Louise has a special love for Malaysia.








Evelyn Chan
Evelyn holds a Bachelor of Science with Honours in Occupational Therapy from Trinity College Dublin. This amicable and tech-savvy therapist has garnered vast experience working with diversed client groups in acute and step-down care facilities. She is skilled in implementing individual and group programmes for children with developmental delays in Early Intervention Centres as well as working with school-going children with sensorimotor, cognitive and social challenges. She employs progressive techniques tailored to meet the unique needs of each child. Children are responsive and take well to Evelyn as they find her relatable and fun.

Evelyn takes a keen interest in integrating children with special needs into the community and school settings. During her placement in a local mainstream primary school, she garnered insights which she presented at the 2013 National Occupational Therapy Conference and received rave reviews for her work.

Outside of work, Evelyn enjoys spending time at home with her husband and fur kids, considering herself a full-time slave to her cats. She also renews herself with new hobbies and self-expresses through piano-playing.


Felicia Teo
Felicia holds a Master Degree in Occupational Therapy from La Trobe University in Melbourne, Australia. She has experience working with children with specials needs ranging from Attention Deficit Hyperactivity Disorder , Autism Spectrum Disorder and Down's syndrome to Global Developmental Delay. She is dedicated to helping every child gain function and independence in their home, school and play via promoting the development of their fine motor, sensorimotor and visual motor skills.

This effervescent clinician constantly updates herself profesionally and is trained in Handwriting without Tears, DIR Floortime and Elementary Play Therapy, among others.

In addition to working with children, Felicia also has experience working with the elderly population and relates well to 'aunties and uncles'. During her free time, she enjoys a game of squash, café- hopping and travelling.


Bernice Chia
Bernice graduated in 2014 from Trinity College of Dublin with a BSc in Occupational Therapy (Hons). Since she enrolled in her Occupational Therapy course, Bernice had her sights set on working with children. After her graduation, she has gained work experience in both a private clinic setting as well as a public preschool provider. She enjoys collaborative work with children and families to manage developmental conditions such as Autism Spectrum Disorders, Sensory Processing Disorders, ADHD and Dyspraxia.

Bernice employs an eclectic approach to treatment, drawing theory and knowledge from Sensory Integration, DIR Floortime, Social Thinking and Praxis frames of references. She advocates for involvement of functional and meaningful occupations for the children and families she works with. Bernice loves working with children and is ever ready to bring laughter and fun to therapy sessions, making hard work as enjoyable as possible for the kids.

Outside work, Bernice values spending quality time with her family, friends and her fluffball of a dog, Doki. She spends her free time buried in a book or searching for new places with good food and good music to relax.

  Cher
Cher graduated with a Master of Science in Speech and Language Pathology from the National University of Singapore (NUS). Prior to becoming a speech therapist, she obtained her Bachelor of Arts with Honours in Linguistics from the University of Western Australia, and certificates in TESOL and Montessori education. After 5 years teaching English to children and young adults in English language centres and universities, she decided to pursue her long-held passion for speech therapy. Cher has worked with children and young adults from different linguistic and socio-cultural backgrounds at special-needs schools, EIPIC centres and private therapy clinics. Her clientele has included individuals with speech, language, communication and fluency difficulties associated with syndromic conditions (e.g. ASD, GDD, Downs Syndrome, Waardenburg Syndrome), auditory processing difficulties, hearing loss, intellectual disabilities, selective mutism and other developmental delays. She employs her fluency in English, Chinese dialects and Malay to connect with clients and to coach caregivers.

She is familiar with Hanen, DIR Floortime, PROMPT, the TEACCH method as well as PECS strategies and adopts an eclectic approach tailored to meet the individual child's needs. She believes that the best learning is done within an emotionally-secure relationship between the child and therapist, so that stress is kept at a minimum and self-esteem can blossom.

For leisure, Cher enjoys watercolour painting, cooking, reading and travelling.









Shobana
Shobana started her teaching career at the Dyslexia Association of Singapore (DAS) in 2007. She obtained both her Diploma in Professional Teaching for Trainers and Teachers from Cambridge University, United Kingdom as well as her Diploma in Dyslexia Studies in 2010.

As a Senior Educational Therapist in the DAS, Shobana provided intervention for students with dyslexia and specific learning differences and carried out outreach projects to schools to raise awareness of dyslexia. In 2011, she branched out to start working with children with Attention Deficit Hyperactivity Disorder and Autism Spectrum Disorder as well as served as a Literacy and Numeracy Enrichment Trainer with the Down Syndrome Association.

Shobana is a patient and passionate educator who creates a variety of activities to pique the interest of her students and ensures that they are engaged in the learning process. Her cheerful and bubbly demeanour sets the tone for the students to be almost instantly eager to learn with her.

Shobana strongly believes in William Arthur Ward's maxim that "The mediocre teacher tells. The good teacher explains. The superior teacher demonstrates. The great teacher inspires."